HUGE ANNOUNCEMENT: C-17 Demo Coming to 2018 Niagara Air Show!
Come see the C-17 Globemaster III Tactical Flying Demonstration at this year's Thunder of Niagara International Air Show on June 9 & 10 at the Niagara Falls Air Reserve Station!
This one-of-a-kind demo comes courtesy of the 105th Airlift Wing of the New York Air National Guard, based out of Stewart Air National Guard Base in Newburgh, New York. Niagara is proud to be one of the few North American Air Shows to host this astounding aerial demonstration.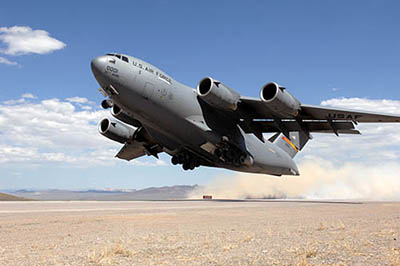 "Crank and Bank" … 250,000+ Pounds in the Sky!
It's difficult to sum up the C-17 in just word and pictures. In short, the C-17 demo team will redefine "Crank & Bank" as they move 250,000+ pounds of airplane across the skies of Niagara. Heck, even fighter pilots are left slack-jawed by the C-17's maneuverability.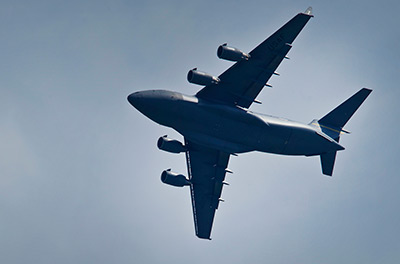 Must See … Unbelievably SHORT Landing Distance
One the highlights of the C-17 Demonstration is its' ridiculously short stopping distance. Add in the Globemaster's ability high-speed taxi backward (in some cases, up to 65+ miles an hour – in reverse) and you've got a must-see demo! Remember, the only place to see this is at the air show!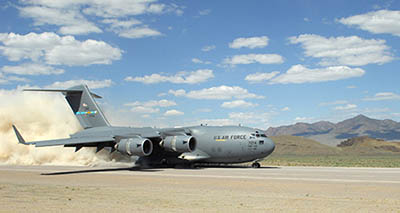 More About the C-17 Globemaster III
"The C-17 Globemaster III is the newest, most flexible cargo aircraft to enter the airlift force. The C-17 is capable of rapid strategic delivery of troops and all types of cargo to main operating bases or directly to forward bases in the deployment area. The aircraft can perform tactical airlift and airdrop missions and can transport litters and ambulatory patients during aeromedical evacuations when required. The inherent flexibility and performance of the C-17 force improve the ability of the total airlift system to fulfill the worldwide air mobility requirements of the United States.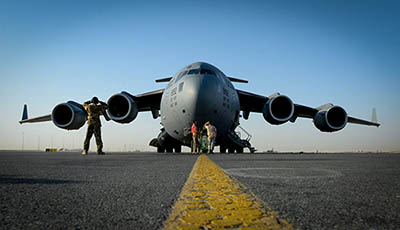 The ultimate measure of airlift effectiveness is the ability to rapidly project and sustain an effective combat force close to a potential battle area. Threats to U.S. interests have changed in recent years, and the size and weight of U.S.-mechanized firepower and equipment have grown in response to improved capabilities of potential adversaries. This trend has significantly increased air mobility requirements, particularly in the area of large or heavy outsize cargo. As a result, newer and more flexible airlift aircraft are needed to meet potential armed contingencies, peacekeeping or humanitarian missions worldwide. The C-17 is capable of meeting today's demanding airlift missions." Again, this is one you don't want to miss!

Become an Insider and SAVE up to 50% OFF VIP Air Show Tickets!

The flying schedule for air show weekend
Airshow performer announcements and a look behind-the-scenes
First dibs & access to special "Insider ONLY" discounts and offers!
Our Commitment to Your Privacy
We value and respect your privacy! Please read our Privacy Policy. We will never share, sell, or rent your info. By submitting above you are giving ThunderofNiagara.com permission to send you additional information.
Please note: Aircraft and performers are subject to change without notice, due to operational considerations. If anything changes, we will do our best to let you know. Thank you!
Info Sources:
http://www.af.mil/About-Us/Fact-Sheets/
Display/Article/104523/c-17-globemaster-iii/