Military Jet Teams & a F-22 Raptor Demo, +++!
Announcing the 2018 Thunder of Niagara Air Show, June 9 & 10, 2018!
Featuring not one, but TWO military jet demonstration teams … the United States Air Force Thunderbirds and the Canadian Forces Snowbirds! Plus, the F-22 Raptor tactical demonstration.
Check out the details below and buckle up for two days of jam-packed aviation excitement!
USAF Thunderbirds
"The USAF Air Demonstration Squadron ("Thunderbirds") is the air demonstration squadron of the United States Air Force (USAF). The Thunderbirds are assigned to the 57th Wing, and are based at Nellis Air Force Base, Nevada.
The Thunderbirds Squadron tours the United States and much of the world, performing aerobatic formation and solo flying in specially marked aircraft. The squadron's name is taken from the legendary creature that appears in the mythologies of several indigenous North American cultures."
"Millions of people have witnessed the Thunderbirds demonstrations, and in turn, they've seen the pride, professionalism and dedication of hundreds of thousands of Airmen serving at home and abroad. Each year brings another opportunity for the team to represent those who deserve the most credit: the everyday, hard-working Airmen voluntarily serving America and defending freedom."
---
Canadian Forces Snowbirds

"The Canadian Forces (CF) Snowbirds, 431 Air Demonstration Squadron are a Canadian icon comprised of Canadian Armed Forces (CAF) members and National Defence Public Service employees.
Pilots, technicians (aviation, avionics, aircraft structure, supply), mobile support operators, resource management support clerks, an engineering officer, a logistics officer and a public affairs officer representing all three elements (Army, Navy and Air Force), work as a team to bring thrilling performances to the Canadian public. Serving as ambassadors of the CAF, the CF Snowbirds demonstrate the high level of skill, professionalism, teamwork, discipline and dedication inherent in the men and women of the CAF and they inspire the pursuit of excellence wherever they go in North America."
---
F-22 Raptor!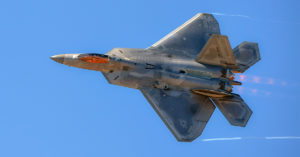 "The Air Combat Command F-22 Demonstration Team at Langley Air Force Base performs precision aerial maneuvers to demonstrate the unique capabilities of the world's only operational fifth-generation fighter aircraft. The team also teams up with Air Force Heritage flight exhibiting the professional qualities the Air Force develops in the people who fly, maintain and support these aircraft."
Insider ONLY Online VIP Ticket Launch – May 17th at Noon ET!
VIP Tickets go on sale (ONLINE & to Insiders ONLY) tomorrow … May 17th, at 12:00 PM (Noon) Eastern Time. Tomorrow at Noon Eastern, you'll receive an email, promo code, and special Insider ONLY link to purchase VIP tickets.
If you have family and friends who might be interested in saving up to 50% OFF* VIP tickets, please have them sign-up to become an Air Show Insider on the Thunder of Niagara website home page. VIP Ticket prices go up on May 21st.
*Nominal Ticket fees may apply.
Please note:
Aircraft and performers are subject to change without notice, due to operational considerations. If anything changes, we will do our best to let you know. Thank you!
Info Sources:
https://en.wikipedia.org/wiki/United_States_Air_Force_Thunderbirds
http://afthunderbirds.com/site/history/
http://www.rcaf-arc.forces.gc.ca/en/snowbirds/index.page
http://www.acc.af.mil/Home/Aerial-Events/F-22A-Demo-Team/